Sorkum
Range
Conservation status
Thriving
Scientific classification
Kingdom
Flora
Phylum
Ccilia
Class
Sarun
Order
Diurnae
Family
Glintids
Genus
Sorka
Species
S. Cultivata
General statistics
Mean Height
30cm
Mean Weight
500g
Mean Edibility
1/10
Mean Danger
6/10
Sorkum is a fruit-bearing, carnivorous plant often cultivated for its valuable poison.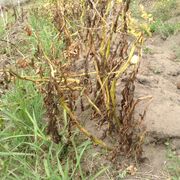 Appearance
Edit
Sorkum is a small, stalky plant with round, green fruit often found in clusters of 2-5. It's stalks are yellowy-green, as are the leaves of a hungry specimen, though a recently fed plant's leaves are brown and appear dead.
Predatory Technique
Edit
Sorkum fruit contains incredibly powerful poison, that kills within seconds of being eaten and causes profuse posthumous bleeding. Victims usually fall to the ground above the Sorkum's roots, and bleed into the ground. Sorkum roots are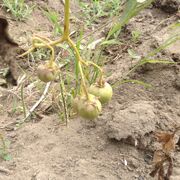 incredibly porous, and suck up all of the aforesaid blood, along with the nutrients it carries. The acquired blood is then carried into the leaves and evaporated, leaving behind only its load of nutrients.